Writing Portfolio
Master's Thesis
Title: Assessing interpretability of visual symbols of varied colors across demographic profiles
Author: Parker, Brendan
Abstract: Visual symbols are often ambiguous. An icon is meant to convey a particular meaning, but viewers may interpret the image differently. This thesis shows how a viewer's demographic background and icon color can affect their interpretation of a symbol. A website survey, featuring a library of icons, asked users of varied demographic profiles to interpret each figure presented randomly in one of five colors: black, blue, red, green, and orange. The qualitative text data from the participants` interpretations were compared to the quantitative data from icon and demographic information by means of multinomial logit analysis. The experiment found numerous noteworthy correlations, showing that the color of an icon and person's background can have a significant and oftentimes predictable influence on interpretation. Icon designers can use this approach to see which icon would be best used to serve certain purposes.
Record URI: http://hdl.handle.net/1850/12245
Date: 2010
License: Creative Commons
Books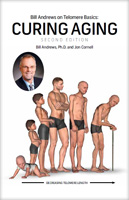 I served as an Editor and contributing author to the Second Edition of "Curing Aging" released by Sierra Sciences. I am assisting in the editing and writing of other books of a similar subject matter as well.
Title: Bill Andrews on Telomere Basics: Curing Aging Paperback
Publication Date: January 1, 2014
Authors: Ph.D. Bill Andrews (Author), Jon Cornell (Author), Brendan Parker (Editor)
Synapse: Dr. Bill Andrews explains the groundbreaking science of telomere biology, the first and only emergent technology that holds the promise of treating and reversing age-related diseases, including aging itself. Topics discussed include the biological basis for the human aging process, the basic science behind telomeres and telomerase, a history of Dr. Andrews' discoveries at Sierra Sciences, the most exciting experiments demonstrating the promise of therapies based on telomere length maintenance, and the diseases that could be treated or cured by this technology. Dr. Andrews is the President and CEO of Sierra Sciences, a biotech company focused solely on reversing aging through telomere maintenance. He is one of the principal discoverers of both the RNA and protein components of human telomerase, the enzyme most critical to this technology. He has focused the last 20 years of his career exclusively on addressing the problem of human aging. All profits from the sale of this book go to anti-aging research.
Style: Paperback, 80 pages
Publisher: Sierra Sciences LLC; 2nd edition (2014)
Language: English
ISBN-10: 0615949983
ISBN-13: 978-0615949987
Assessment
Adapt Courseware is a company which makes online learning materials for students and institutions. while working at the company, I served the role of Instructional Writer and Interactive Developer, the former of which involved writing assessment questions for the end of a unit, among other responsibilities. For varied topics and courses, my responsibility was to create a list of questions to test the student on their understanding of the section's content. This involved writing a cogent question, providing the correct answer, writing several incorrect answers, providing a hint explaining why the incorrect answer was wrong and point them toward the correct one, and also end with a "good to know" paragraph which expounds on the topic they just answered.
You can see some examples of my question and answers here. To the best of my knowledge, these were not officially used in their system.
Syllabi
I list syllabi and other materials I've created in the Teaching Portfolio. Further, I can provide examples of assignments and projects on request. I have deveoped several assessments, lectures, guided exercises, and assignments for each course I taught.
UserInteraciton.Net
In 2012, I started a weblog called UserInteraction.net which discussed how people use interfaces and investigated some of the more in-depth concepts of usability engineering. The website was an extension of my Master's Thesis. My plan was to post information about new research and literature in the field, contribute my researched information, and offer tutorials for applications like Photoshop, Illustrator, and other common tools. My intent was also to regularly update the site with discussions of what is good, bad, and different about interaction design strategies I find in everyday things. I had a good start, but took other commitments after a few months of regular updates. New employment at Carestream, increasing business with Amalgam Web and Media, and my commitment to the longevity movement took presedence over my management of the site.
It is available online at www.userinteraction.net.
Essays and Papers:
Human Factors and Usability
Research Reports
Plays and Narratives
Game Design and Development